Newsroom
From Kalapet to Germany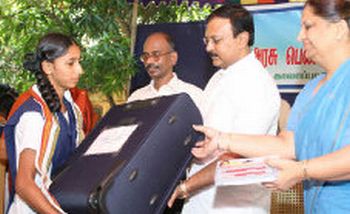 Source: The Hindu
PUDUCHERRY: From the coastal villages of Kalapet to Germany, it will be a dream trip for a group of tsunami-affected students of Government Girls High School, Kalapet, who have been selected for a cultural exchange trip.
The group of 20 students, all from Class IX and X, will leave for Germany on Thursday and return on September 14.
Accompanied by Collector Theva Neethi Dhas and four teachers, the students will not only visit several places in Germany but also interact with officials of the Ministry of Culture, the Education Ministry and the Mayor.
In Germany, two students each will stay with 10 families. They would go with the German students to school in the morning, Mr. Dhas said, adding that e-mail IDs had been created for all students.
"A Delhi-based NGO, Shin Shiva Charitable Trust, has contributed Rs. 45 lakh to the construction of a building at the school. The funds were contributed by 3,000 schoolchildren of Saarpfalz County in Saarland State, Germany, by engaging in different jobs. An official of the Ministry of Science and Education of Germany visited Puducherry for signing a Memorandum of Understanding for this when Education Minister M.O.H.F. Shahjahan had suggested a tour of the students as an initiative of learning from each other."
"This is more than rehabilitation and something extraordinary for the tsunami-affected children. It will help come up in life, meet challenges and get more opportunities," he said.
Puducherry government had spent Rs. 15 lakh on the entire trip. The students had been taught basic terms in German and given a travel suitcase, travel bag, coat, two sets of uniforms, woollen sweaters, shoes and hand gloves.
Education Minister Shahjahan and Chief Secretary Naini Jayaseelan greeted the team on Tuesday and wished them bon voyage.